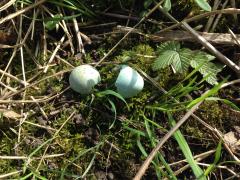 Signs of spring - this eggshell means that in a nest somewhere, a baby song thrush has hatched, just in time for Easter. Gin Foster.
The warmer weather is bringing out butterflies and bumble bees. The hawthorn and blackthorn hedges are also stirring into life - if you didn't already know, the blackthorn blossom comes before the leaves, while in the hawthorn the leaves come first followed by the (May) blossom.
I also saw a red kite meandering above The Parkes yesterday. - JD.