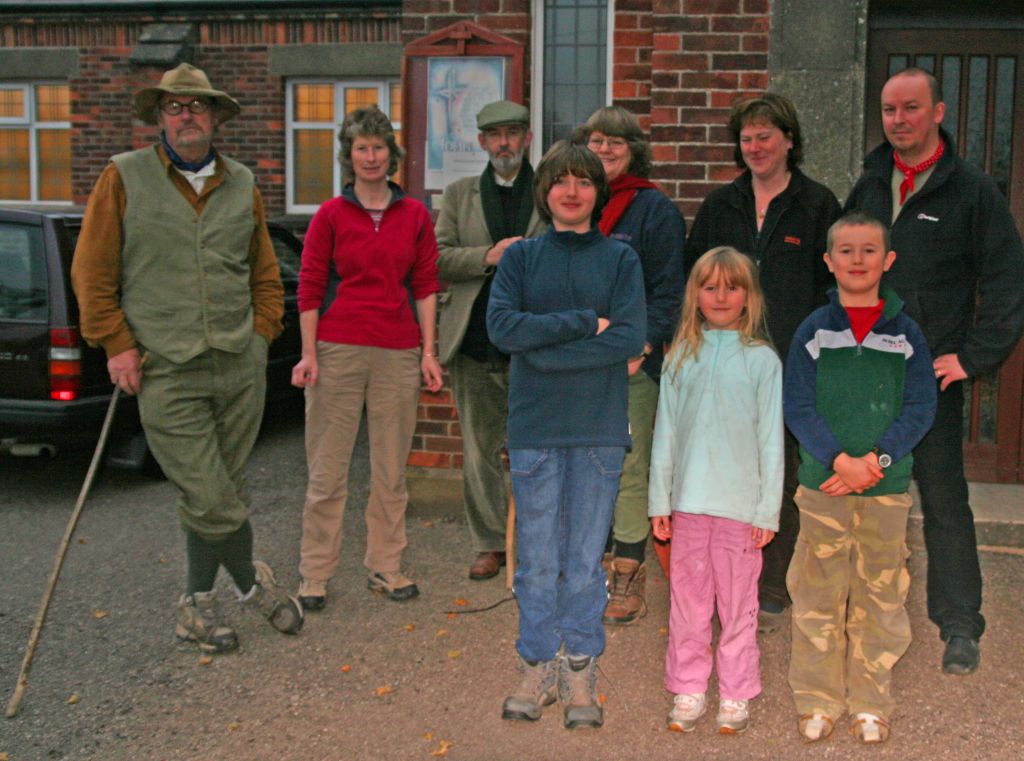 PILGRIMS STAY OVERNIGHT AT HANKELOW CHURCH
On Sunday, October 21st 2007, a group of pilgrims led by Ian Ball set off from Stapeley Hill in South Shropshire on their way to Jodrell Bank. Their overnight stops were at Hanwood, Hadnall, and the parish church at Prees – surprisingly comfortable and warm- and they arrived at Hankelow on Wednesday, October 24th.
Alice, aged 7, takes up the story:
'We went walking for a whole week. And I really enjoyed it. We went with Charles and Fern my sister and my mum and dad and Oliver my brother and Jane and Hanna and Jacqui. I loved having a meal at the White Lion.'
Oliver( aged 8 ) adds:
'I also never got tired but I did get a sore foot, so I needed plaster for the back of my foot. We went through woods, fields and narrow paths. It was great and interesting, I loved it, well most of it, some of it was quite boring. It was the biggest pilgrimage I've been on so far. We have been in a lot of pubs this week'
Fern, who is 13, writes:
'According to a churchwarden in Ightfield you can see Jodrell Bank from the top of their tower. Hopefully it means it's not too far away! The Methodist Church in which we are staying ( Hankelow ) is very comfortable and above all warm, and the village looks very nice. In the White Lion the chips were lovely and the other food was wonderful too. And the rhubarb tart was very nice, although at that point I was stuffed! The atmosphere was very good and they didn't mind booking us all in a hurry.'
Is this first time pilgrims have ever slept in Hankelow Church? Incidentally one of the pilgrims has a sister living in Audlem, and the mother of the above went to Keele University in the 1980's when I was Associate Chaplain and vicar there.
Text and photograph © John Whitehead